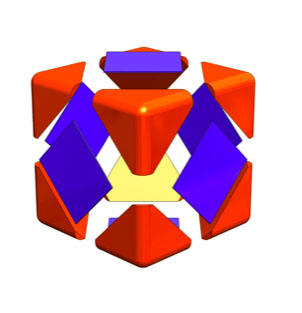 The French naval architect, Francois Rougier has devised an ingenious structure for the dice. Each die is composed of 8 watertight compartments each of which constitutes a corner of the die. These compartments are held together by 6 panels one of which is located on each face of each die. The dice are designed to be unstable and will roll with the wind and the waves.
The internal face of each die will be equipped with a beacon which will transmit the position of the die as well as inform us which side is facing upwards. The side facing upwards will be the current "roll".
These rolls and positions of the dice will be relayed via satellite to a listening post (at right) located in the center of a city so that people may follow the actions of the dice and use this information to their own ends.
M'aidez = Mayday = Mes Dés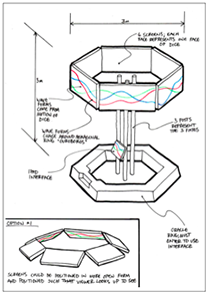 ART & INDUSTRY
The voyage of Aqua Dice will serve as a feasibility study for unmanned, non-sail, wind powered Trans-Atlantic shipping.
ENVIRONMENT
The dice will be made from bio-composites and will be 100% recyclable
SECURITY
AquaDice will be highly visible at sea. The bodies of the dice will be painted a bright phosphorescent orange with blue pips on each face. In addition each face will have constantly flashing lights visible up to 5 kilometers and with lifespans of 2 years. The beacons will provide electronic signals.